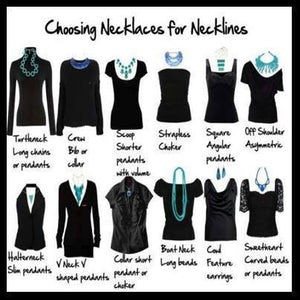 What to wear with every type of dress: The Ultimate Guide
WHAT JEWELRY TO WEAR WITH EVERY TYPE OF DRESS
STUMPED ON WHAT JEWELRY TO WEAR TO MAKE EACH DRESS IN YOUR WARDROBE POP? CHECK OUT THIS ULTIMATE GUIDE SO THAT YOU CAN ALWAYS PICK THE PERFECT PIECE.
You've picked out the perfect dress. You have the shoes, and you've made your hair appointment. But when you try on the outfit and look at yourself in the mirror, you think, "Something is missing."
Then a thought hits you. You need some stylish jewelry pieces. These will complete your outfit and make your dress stand out.
Some necklines allow for many jewelry choices, while others work with only a single style. Let's look together at some of the more popular 2018 neckline styles and which pieces you can pair with them.
1. A NECKLACE FOR A STRAPLESS DRESS
Strapless dresses are dramatic. They highlight your neck and collarbone, and you don't want your necklace to take attention away from those features.
Luckily, there are lots of choices when it comes to strapless dresses. The only rule is the old adage "less is more."
If you wear a big, bold necklace, you shouldn't also wear large earrings. But a large necklace and small earrings are appropriate, as is the opposite combination.
You want to choose one piece that enhances the drama of your dress. Your necklace should provide a single focal point, giving the entire outfit a streamlined look.
Collars and chokers are both good options for a straight, strapless neckline. 90s-style chokers are popular this year. But both kinds of necklaces will frame your face without interfering with the drama of your neckline.
Some celebrities wear a longer chain or pendant necklace with a strapless neckline. They fall at mid-chest or even at the waistline, and they look fabulous too.
2. OFF-THE-SHOULDER DRESSES
The off-the-shoulder neckline has been around for a while and still remains popular. The purpose of this style is to show off your shoulders. Because there is so much bare skin, though, it can be hard to find the right accessories.
You don't want your jewelry to be a distraction, and you want attention focused upwards. For this reason, chokers and collar necklaces work best.
Combining two popular trends (in this case, chokers and off-the-shoulder dresses) might seem like overkill. But simple, non-fussy necklaces work best with this style.
3. THE ASYMMETRICAL NECKLINE
This is one of the hot trends of spring/summer 2018, which means you'll definitely want to know how to pair a necklace with this style! Fortunately, you have several options to choose from.
First, and perhaps most obviously, an asymmetrical necklace complements this neckline. It provides a nice balance to the already non-symmetrical neckline of the dress.
If you prefer a longer necklace, though, one with beads of different shapes and sizes complements this neckline well. Or try one with several long chains. These could include pendants, but they don't have to.
A small delicate pendant necklace will draw attention upwards to your collarbone. Simple chokers or any fine short chains are also options here. As you can see, there are lots of choices, so it really depends on the dress and how you feel about the outfit overall.
4. NECKLACES FOR V-NECK DRESSES
If you're wearing a deep-plunging v-neck dress, you are definitely going for the wow factor. While it's possible to wear simple earrings and a choker necklace, a longer necklace is a more interesting option.
A long pendant necklace works well. One stylish option is a simple choker and pendant combination. The pendant hangs on your collarbone, but you then add longer and longer necklaces until you reach the desired length.
In fact, any kind of layered chain would be a good choice. Carefully layered strands fill up the space left open by the neckline, but they are subtle enough so they don't overcrowd the area.
Lariat necklaces are also an excellent choice here. In fact, any long necklace will lengthen your torso, giving you a leaner look and making you appear taller.
5. THE SQUARE NECKLINE
The square neckline appears to be extremely popular this spring/summer. Because of its angular shape, it can be hard to accessorize. But you do have some lovely options nonetheless.
A collar or choker necklace is one possibility. Also, any short-layered chain or delicate necklace would look good in the space left open by the square neckline.
In terms of style, one option is to emphasize the angular shape of the neckline with an angular necklace. This could be either a chain or a pendant.
Another alternative, though, is to use your jewelry to provide contrast. A pendant with a rounded shape can bring harmony to the neckline's open space, as can a short chunky necklace. In fact, any piece with a round curve will create balance.
The choice is yours. Both styles work well, although in different ways, with this neckline.
6. THE SWEETHEART NECKLINE
Sweetheart necklines are a romantic and curvy variation on the straight strapless dress. They provide the ideal opportunity to make a bold statement.
With this neckline, you have the chance to be bold. It is one of the few times where you can really experiment and have fun with a statement necklace. It can be large, chunky, and ready to grab all the attention.
But if you prefer something more subtle, there are other options. Either a short necklace or a collar would work well with the sweetheart neckline.
Whatever you choose, try not to over-accessorize. Choose a look, and then stick to it.
WRAPPING UP WHAT JEWELRY TO WEAR
There you have it! Your guide to dress necklines and necklaces. Now you can accessorize any dress in your wardrobe, knowing what jewelry to wear. With t his knowledge, you can be both stylish and sophisticated.
I carry a large variety of high-quality necklaces, bracelets, and more. These pieces will allow you to upgrade your jewelry collection to one that is both luxurious and elegant.
---
4 comments